Rev. Mark LaRocca-Pitts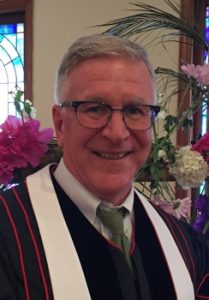 Pastor Mark LaRocca-Pitts has been an Elder in Full Connection in the North Georgia Conference since June 2007. Prior to Mark's appointment at Bethelview UMC, he served Cherokee Corner as a Local Pastor (2003-2005) and the Crawford Circuit (2005-2008) as Pastor in Charge. Mark has spent most of his ministerial career in extension ministry as a hospital chaplain at Duke University Medical Center (1996-2001) and at Athens Regional Medical Center (2001-2010), and then as a hospice chaplain with Crossroads Hospice (2010-2016).
Mark is a Board Certified Chaplain with the Association of Professional Chaplains and currently serves on their Board of Directors. Mark holds a BA in Geology and Religious Studies from Indiana University (1980), a MA in Religious Studies from Indiana University (1988), a MDiv from Harvard Divinity School (1991), and a PhD in Near Eastern Languages and Civilizations from Harvard University (2000). He also teaches as Adjunct Faculty in Pastoral Care at Candler School of Theology at Emory University.
Mark lives with his lovely and devoted wife, Beth—also a United Methodist Elder currently serving St Mark UMC in Midtown Atlanta, and his beautiful and smart twin teenage children, Ellie and Joe, in Atlanta, GA.
You can contact Pastor Mark by email at mark@bethelviewumc.com or by telephone at (770) 887-4888