Reverend Beverly Wilkerson Casstevens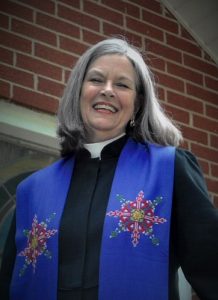 Reverend Casstevens (a.k.a., RevBev or Pastor Beverly) is an ordained elder of the United Methodist Church. She has been serving in churches for as long as she can remember: from children's ministries to music and choir to worship committee and stewardship chair. She answered the call to ministry in 2001 and almost immediately joined the non-appointive staff at Salem UMC (Covington, Assistant Pastor). She has served Jonesboro First UMC (Associate Pastor), Thomson First (Associate Pastor), Bethel UMC (Hiram, Pastor in Charge), and North Fayette UMC (Pastor in Charge).
Her education includes a Bachelors degree in Anthropology with minors in Education and Music, Masters in Comparative & Developmental Psychology, and Doctoral Studies in Primatology; all from Georgia State University. She returned to Emory University for her Master of Divinity degree (2005). Her previous experiences ranged from conducting and coordinating a variety of research projects (including the Chimpanzee language studies at the Yerkes Regional Primate Research Center) as well as working for Fortune 50 corporations in the consumer products and systems management software segments.
Beverly has two sons: Simon (married to Kim) and Jacob (married to Ann). She maintains an interest in music, gardening, science and archaeology. Her cats – Ashland, Phoebe and Little Girl – gracefully keep her company and allow her to meet their every need.
She says that she believes one of her gifts is at the cross-roads of science and faith which is often viewed as a competition rather than a cooperation. RevBev says,
"Science is a great blessing that allows us to contemplate the nuts and bolts of the creation. As a person of faith, I enjoy helping folks understand that faith and science are not at odds, much less enemies. Believing in God as Creator does not mean that you cannot investigate how the world works – essentially how God did it. Science reveals the intricacies, the wonder of how the creation works, and insight into the sacred wonder of a cosmos that is relational and interdependent and divine."